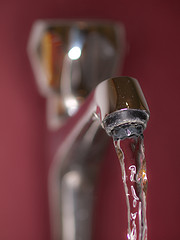 By the end of this article, you will have a definitive answer to this question.
Update 8/4/13: Originally published over a year ago, we still maintain the validity of the points in this article. As others have done, feel free to add your own thoughts in the comments section below and if you have any additional evidence that proves or disproves the findings below, please share those, too. We would also like to add that we are not sponsored by either company and do not receive any money for the opinions below.
Brita and PUR are the two most well known companies when it comes to water purification. We have previously reviewed and recommended the PUR DS-1800Z 2-Stage Water Dispenser. Read our PUR DS-1800Z review. So why haven't we reviewed and recommended a BRITA product yet?
We will likely review a Brita product in the near future, but in our experience, PUR produces filters and systems that are both more efficient and durable (update: we have in fact reviewed a Brita filter. You can see it here. In the review we talk in more detail about the product that we mention later in this post). Anecdotal evidence from reviews on Amazon.com and on water filtration message boards, reflects a similar conclusion. The question, however, is whether there is any concrete scientific data backing up a preference for PUR. The answer is yes, in fact, there is impartial evidence when it comes to this debate.
NSF, a non-profit that evaluates a wide range of products, conducted a series of studies on Brita and PUR filters. They found that Brita and PUR filters are almost equally effective, but PUR has a slight edge. PUR filters were able to filter out 97% of Chlorine, while Brita filters removed 94%. In the area of lead removal, PUR filtered out 97% and Brita filtered out 95%. Differences of 2-3% may seem negligible, but you must realize that with respect to a water contaminant like lead, you want that number to be as close to 100% as possible. No amount of lead is really safe for drinking.

Brita vs. PUR on Design and Durability
Secondly, there is the issue of design and durability. As a case study, let's take a look at two similar Brita and PUR water filter dispensers: the Brita 35530 Ultramax Dispenser and the PUR DS-1800Z 2-Stage Water Dispenser. The PUR DS-1800Z has more than twice as many reviews (669 vs. 216) and a much higher rating. In fact, the PUR dispenser has almost five stars, while the Brita dispenser is hanging around three and a half stars.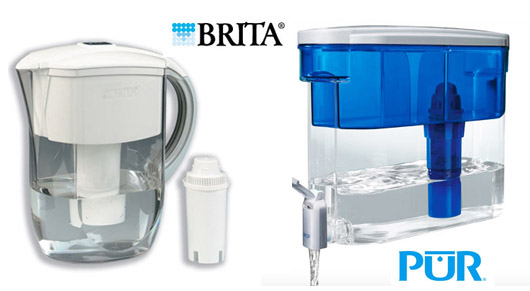 The PUR dispenser has the clear edge on design. It is more narrow and fits more easily into a refrigerator. It also has a better designed spigot, which minimizes leaking. Many of the complaints about the Brita dispenser are about excessive leaking. As an example, here is what one reviewer had to say about the spigot on the Brita dispenser:
1. The spigot draws water from at least an inch and a half up from the base of the dispenser. As a result, quite a lot of water is left inaccessible for drinking, even after tipping over the dispenser.
2. Even more infuriatingly, the spigot's connection to the main housing is so poorly designed that it eventually starts to leak water all over the place. The first dispenser I purchased started to leak after 1 week. I dutifully exchanged it for another one, which proceeded to leak after about 2 weeks. It appears that the "O-ring" that connects the spigot to the main housing shrinks when it gets cold. . . a rather fatal flaw for an item intended for use in a refrigerator.
Despite being a lifelong Brita user, I exchanged this product for a Pur 2-stage dispenser. I am now converted and will never go back. The dispenser is rock solid, and the water even tastes better! (review source)

Cost
Pur and Brita filters are similarly priced. In the case of the two mentioned filters in this post, PUR is actually slightly cheaper. The replacement filters are equally priced as well. Considering the alleged superiority of PUR products, you would expect them to be significantly more expensive, but that is not the case.
We have used both Brita and PUR products in the past. Over time, we have found PUR filters to be better designed, more durable, and better performing. The fact that they both cost about the same price makes the decision even easier. Ultimately, if you are serious about your water purification, you will want to invest in something more substantial than a pitcher filter, but if you are just starting out or if you are looking for an easy and affordable option, we would recommend going with a PUR dispenser. Again, this is something that is affordable, it's easy to maintain and it doesn't take up a lot of space.
Have you used both Pur and Brita products? Let us know your preference and why in the comments below. We would especially like to hear from any hardcore Brita supporters. We would be willing to reconsider our opinions given some new information, but as of now, we are informed by our research and personal experience using these products. PUR vs. Brita is a debate that you should settle yourself by actually using the products, but hopefully our advice can provice some guidance.
**UPDATE** Please take a look at the comments section below for some more discussion on these products. Many different people have weighed in on both Brita and PUR filters and the comments form a valuable addition to the original content of the article. Feel free to leave your own 2 cents of course.
Photo credit: http://www.flickr.com/photos/wwarby/