We often use this website to endorse certain products that we have come to appreciate for one reason or another. Today, we are going to talk about a product that we have not used personally, but one that has earned a lot of attention recently for its groundbreaking design and its sustainable approach to fabrication and filtration.
The product is the SOMA water filter and it is one of the more innovative designs to appear on the water pitcher filter scene.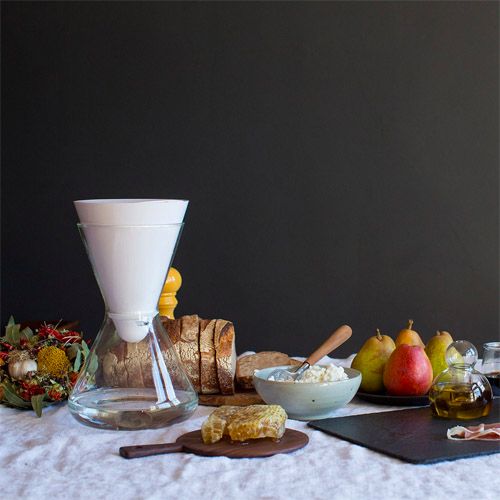 While we haven't given it a test run yet, here is why this product could soon be our go-to water purifier:
The design is environmentally friendly – coconut shells do the filtration, the plastic is starch based and the silk is vegan. The container itself is glass, much sturdier than the cheap plastic that comes with PUR and Brita filters.
The filter is supposedly effective – David Beeman who handles filtration for Starbucks was behind the filter design and while we haven't seen any numbers, it is likely that this product is highly effective. Early customer testimonials back this up.
It is easy on the eyes. Looks as good on a dining room table as it does in the fridge.
It is convenient. They have a subscription option where you can automatically have new filters sent to you. And of course, the old filters are biodegradable. Not bad.
No black particles in the water filter. This is problem that is commonly found with brita filters and you absolutely will not have this issue with the SOMA filter as the approach is completely different.
We are hoping to get our hands on one of these in the near future. In the meantime, we will salivate over descriptions in photos that can be found around the net. For example, in this article from Fastcodesign.com there is plenty of enticing details.
It's also interesting to read a bit about the backstory of the project. As the filter goes to production, it's cool to think that the funding came primarily from their kickstarter campaign. Click on over and have a look at the video they made as well as some of the promotional material. It's clear that these guys don't just know water filters – they also know marketing!
If you have used the SOMA or if you are thinking about picking one up, please leave a comment below. We would love to hear from anyone that has one already!